TESTIMONIALS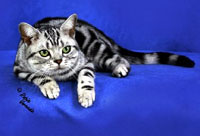 Meet Sapphire and Sanibel
We received our first American Shorthair kitten from Carly & Heinrich. We found the breed at a cat show 2 years prior to that. We did a lot of research looking for a breeder, a good breeder. It wasn't easy.

Then one lucky day we were searching the net as we had been doing and there it was, Kelloggs Cattery. After calling and talking to Carly we knew she had very high standards and a real dedication to her cats and kittens. In our situation it meant the kitten would fly 3000 miles to Florida.
We had many conversations before and after the kittens were born. They sent us numerous pictures and Carly was always quick to respond if we had any questions.
I started to read books on raising cats, even though we had cats all our life. I was very interested and captivated by this breed and wanted to do everything just right.

Most of the books told me that the kitten would arrive being confused and lonely. That she would most likely hide under the bed for a few days or up to a week.
I'm happy to say that was far from the truth! When we brought her home from the airport late that night she jumped right into bed with us and purred like she owned the place! Our kitten was so well socialized by Carly and Heinrich it was truly incredible. We had never heard or seen anything like it before. Kudos to both of them.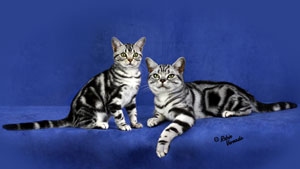 Since then we have added another Kelloggs kitten to our family. She's as wonderful as our first one. We have harness and leash trained both of them. We also taught them to ride downtown in a pet stroller with us when they were just four months old. They get a lot of attention from everyone that sees them and they enjoy watching the geckos, birds and squirrels as we stroll along the avenue. People tell us that our kittens have put a smile on their face and have truly made their day. If they only knew!
They adore each other and provide us with hours of entertainment. We enjoy watching them grow up and loving their Florida lifestyle.
The Mathey's
Venice, FL
---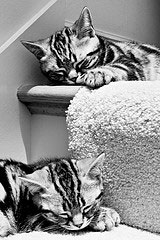 Meet Maxwell and Milo
After a negative experience with another breeder, my husband and I were a bit uneasy about trying again to find beautiful American Shorthairs to add to our family. It was apparent by the Kelloggs website, however, just how much love and dedication that Carly and Heinrich have for their silver tabbies. After reading the testimonials and looking at the pictures of their beautiful cats online, we knew we had found the right cattery.

We became the proud parents of brothers Maxwell and Milo in May 2009. Both of our boys are stunning in appearance, incredibly friendly and are wonderful and patient with our two young children. With exceptional breeding and a lot of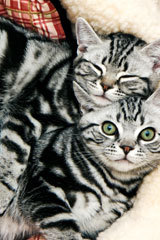 loving care for their first few months of life, Carly and Heinrich's silver tabbies are a step above the rest! We simply could not be happier with our two playful, loving and photogenic boys.

The entire process was easy and enjoyable. Any questions we had were promptly answered and we always felt very informed on the progress and status of our kittens. From transition tips to care and feeding advice, we have been grateful for Carly and Heinrich's expertise and thoughtful answers to our questions. It is just incredibly apparent how well the boys were cared for before they made the move to our home.

Thank you, thank you, thank you, Carly and Heinrich! We feel so privileged to have two Kelloggs kittens in our home and look forward to sharing many more years of enjoyment and laughter with Maxwell and Milo!

The McLaughlin Family
San Francisco, CA
---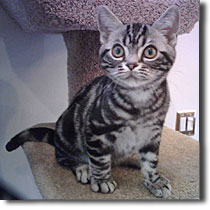 Meet Jack
We are blessed to be the proud parents of Jack. While researching breeders, we stumbled upon Kelloggs Cattery. They had us at the first click. After speaking with Carly, we were lucky to get one of the last kittens of the season. We live in Colorado so Jack had to be flown to us but Carly was fantastic with communication and support. He arrived safely and within 24 hours he was ruling the house.
Our sweet Jack is the most loveable little boy! He is playful, cuddly and laid back. Jack has the most amazing purr! He isn't shy at all and he loves our 5 year old daughter. Jack and Brooke play and cuddle together all the time.
You will not be disappointed with Kelloggs Cattery. The love they have for their kitties is very apparent in everything they do. They are top notch breeders. Their communication from start to, well, it is still going, is and continues to be fantastic. Again, you will not be disappointed.
The Kittell Family
Colorado Springs, CO
---
Meet Kenzy and Darby
We recently acquired two American Shorthair female kittens from Kelloggs Cattery. Both our kittens adapted quickly to their new home and more importantly…to us. They are sisters from the same litter and adore each other….following each other on their day by day patrol of their surroundings and explorative perambulations. They eat their meals side by side, share their toys in interactive play, even tussle good-naturedly, and sleep with each other's paws entwined. They are nearly five months old and both are loving and affectionate with each other and with us. We couldn't imagine our life without either of them now. They are delightful companionship and we already have developed a strong bond with our furry family members! We named them Kenzy McNish and Darby O'Shay as they depict the independent, impish and spirited nature of the Irish/Scottish yet are equally devoted to us… their human kinfolk!
Heinrich & Carly were so compassionate and accommodating toward us while we struggled to make the right decision in selecting the two most compatible siblings and they were likewise committed in helping us ease into the transition of helping our kittens adjust to their new environment. They provide a substantial foundation for equipping all their kittens to become stable, gregarious, and companionable with healthy constitutions and a balanced emotional equilibrium. They both are nurturing toward their cats while maintaining a meticulous cattery with the utmost attention to detail for their cats emotional and physical needs leaning toward encompassing a holistic approach in caring for the welfare of their cats which was exceptional to us.
Our children and grandchildren live long distance in other states so Kenzy and Darby now help fill the void in their absence and are a tremendous comfort and daily source of joy to us. Thank you, Carly & Heinrich, for facilitating such a reputable and inimitable cattery as our sweet dispositional kittens are a testimony to your vigilant input, conscientious stewardship and dedicated nurturance. We will always be grateful for your diligence in humanizing our kittens from an early age as we truly are a family unit now.
The Feldman's
Mount Vernon, Washington
---
Meet Kirby
After almost two years since the death of our previous cat, I began taking steps to find another cat for our family. Our first attempts to find a breeder with the kittens we had in mind all seemed to fail. So I read up on all the breeds, selected a small group of breeds which sounded like a good match for us, and then I went online to see what was available.
When I read through the Kellogg's website it seemed too good to be true. Even so I got excited about contacting them. I told myself to take it one step at a time and see what my experience would be.
With each step I took Carly and Heinrich proved to be as responsive, helpful and nice as their website led me to hope. Their cattery is spacious, spotless, and attractive. The cats and kittens are not only beautiful, but obviously well loved and well looked after.
Another special quality about the Kelloggs is that they took the time to get to know us so that we ended up with a cat that is an excellent match for our family. Kirby is patient and easy-going with our children and playful and relaxed in our busy household. We are so happy to have him as part of our family.
The O'Brien Family
Seattle, Washington
---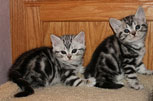 Meet Tibbles and Jilly
"We can't begin to tell you how much we love these kitties after bringing them home just 3 weeks ago. Having two litter mates has been the best decision possible. They have moved right in to our family and are very content. The two of them play hard, sleep soundly, eat heartily, give us unconditional love and are always ready to climb up on our laps for cuddle time.
Finding Carly and Heinrich Kellogg and their breeding program for the Silver Tabbies has been a blessing. Their kitties are so very well socialized that they move right in to their adoptive homes with no problems. Tibbles and Jilly have adjusted to our home from the beginning with no fears of any household noises or guests coming to visit. They are extremely smart and are learning quickly what a simple "No" and a diversion means -- (usually to stay off the kitchen counters).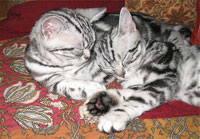 We would recommend that anyone looking for beautiful, healthy and well socialized kittens definitely consider contacting the Kelloggs! And by all means, if you can; visit their cattery. It is set in the woods, in their home, and is spotless."
The Hazen's
Fidalgo Island, WA
---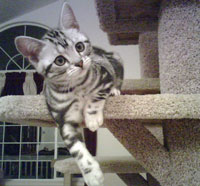 Meet Jazz
"I have adopted many cats from shelters but never really explored the pure breeds other than the many cat shows I have attended. Finding myself without cats in my life I decided to try and find a breed I liked at a cat show in Portland, Oregon. After looking at the various breeds I came upon the American Shorthair Silver Tabbies and in particular the Kelloggs cats. I was amazed at how beautiful they were. When I met and talked with Carly and Heinrich I was really impressed with their knowledge, passion and obvious love for their cats. It wasn't long after that meeting that I was lucky enough to get on a waiting list for their next litter of kittens. Carly kept in constant touch with me over the next several months and when the kittens were born emailed pictures of the new arrivals. As the time got closer to the adoption she emailed me a package of information on the care and feeding of the new little one. In August I received an email with the good news, the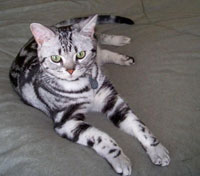 day had finally arrived and it was time to go and pick out a kitten. Upon our arrival at Heinrich and Carly's home we were invited in to choose. We were able to spend as much time with the kittens as we needed to make our choice. We also got a tour of the cattery and it was amazing! They made the entire process such a pleasure and I know it was not easy for them to see another kitten which they had loved leave their home. I could not have special ordered a more perfect loving cat than Jazz. He is the most loving little cuddler cat that I have ever had. I feel very fortunate in deed to have found the Kelloggs and I thank Carly and Heinrich for allowing Jazz to become a very special part of my life."
Randy Millis
Vancouver, Wa
---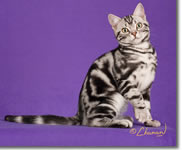 Meet Elliot
"We first met Carly in Santa Barbara as spectators at the local cat show. At the time we had never been to a cat show before, let alone even heard of an American Shorthair Silver Tabby, but immediately fell in love with the breed. After the show, we contacted different breeders and found that one of the Kellogg's queens had recently had a litter. Carly and Heinrich were extremely supportive every step of the way, sending pictures of Elliot with his siblings, and less than two months later, Elliot was flown down from Seattle to LAX.
Ever since Elliot entered our lives, not only does he provide companionship, entertainment and hours and hours of playfulness, but he also brightens up every day. He has taught us how to play peek-a-boo, fetch, catch, "defend the fort," and hide and seek. We no longer need an alarm clock because he dutifully wakes us up in the morning with his motor-like purring. We've been in constant contact with Carly and Heinrich, and they have guided us through the complex world of cat shows, health, feeding, grooming, and everything in between.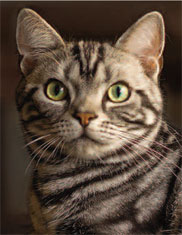 Having met other breeders since then, we consider ourselves very fortunate to have found the Kelloggs, as they are undoubtedly as passionate and dedicated as breeders can be. We would highly recommend them to anyone who is considering adding an American Shorthair Silver Tabby to their home, and certainly the love Carly and Heinrich show their cats is evident in the loving, communicative personalities of the beautiful cats they breed."
Ida Goldkorn and Abraham Mendoza
Santa Barbara, CA
---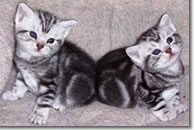 Meet Bruce and Angus
"Here I am the very happy adoptive mother of two Silver Tabby brothers: Bruce and Angus. They are perfect and I could not have hoped for more beautiful cats. They are so affectionate, playful and omnipresent. After a very long search of American Shorthair Silver Tabby Breeders I have found Kelloggs Cattery. I don't say this lightly as I have gone across the continent to find this cattery.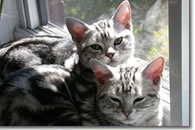 Carly and Heinrich Kelloggs dedication and love for their cats have helped produce the most beautiful and friendly tempered cats. It is evident that the Kelloggs adore their cats and are rightly very proud of their feline family. They consistently have the most gorgeous Silver Tabbies.
The entire adoption process has been a pleasure thanks to their experience, knowledge and availability to answer my questions. Thank you Carly and Heinrich for helping me find the two most wonderful cats anywhere."
Manuela Juretic
Montreal, QC, Canada
---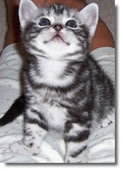 Meet Murphy
"What a delight and pleasure it was working with Carly and Heinrich Kellogg. The Kellogg's breed the most stunning American Shorthairs – Silver Tabbies I have ever seen. Murphy is absolutely perfect; he is healthy and has the most intense black on silver coloration and pattern I have ever seen. I researched for months and spoke to countless breeders, and finally I met Carly and Heinrich at the International Cat Show, 2005. I knew then that they had the type of kitten I was looking for and in April 2006, Carly emailed me and informed me she had a litter of boys.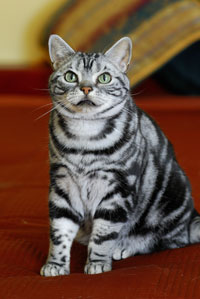 As breeders, Carly and Heinrich Kellogg are always there to answer any question(s) you may have before and after purchasing your kitten. They even send out a care package before receiving your bundle of joy. They are truly the epitome of professional breeders with high standards of breeding. The Kellogg's care for their cats as if they were children.
I thank Carly and Heinrich for helping me add a special addition to our household. I plan on keeping in touch with lots of pictures as my kitten grows. Murphy says thank you too! "
Karen Sarantitis
San Francisco, CA
---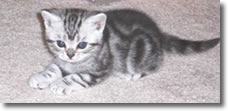 Meet Storm
"After making a decision to add another cat to our already large family of animals, I became fascinated with the American Shorthair and its place in the history of the United States. During my research the name 'Kellogg' came up repeatedly, and I was impressed with their obvious passion for the breed.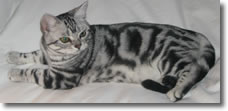 Carly and Heinrich Kellogg have an extensive knowledge of the breed and with their guidance we are now the proud parents of a beautiful male, silver tabby, American Shorthair kitten, named Storm. Having been raised underfoot, with the family dog, in the Kellogg's home, he is the most well adjusted cat that we have ever had.
With his talkative, happy nature he has quickly charmed his way to the head of our house and the center of our hearts. We are extremely grateful to both Carly and Heinrich for having added such a cherished member to our family."
The Schmidt Family
Redmond, WA